0 Comments Activities, Singapore, Tips, Travel
Best Beaches in Singapore
Singapore is not a large country. In fact, the longest taxi ride we have ever had was 15 minutes from one side of the country to the other. To put it in perspective, Singapore, the country, is half the size of the city of Los Angeles. Everything in Singapore has been built and rebuilt for making it a better place. Unlike most cities where there are unused areas or areas that are just going to waste, this is not the case in Singapore. It is clean and modern, and extremely safe. There are many beaches in Singapore, with a large portion of them in Sentosa. You know that the beaches will be taken as seriously as everything else for making them to best and most enjoyable places to be. Here are some from our list of places to see.
Lazarus beach
This is an island off Singapore that you can get to with a short ferry ride. There aren't usually many tourists here but the beach is well worth it as it is a long expanse of untouched sand. Lazarus beach is one of those beaches where you spend the day in peace and relaxation.
Pulau Ubin
Ok, we said there were very few places that have been untouched by Singapore, but this is probably the closest to that. It's actually an island off Singapore, though most people think it's part of Malaysia. There is a village there called Kampong, that is quite quaint. The only transport around the island is basically renting a bike in the village. The boat to get here has no regular schedule and it leaves when there are enough people that want to go. This is the extreme other end of Singapore modernization, but well worth it.
Changi Beach
Changi beach is near Changi airport, and a little more remote on the east coast of Singapore. It is home to joggers and bicyclists, as well as other locals that are doing their fitness thing. You can watch planes land and take off from here as well. It is not a touristy and services beach, so bring your food and creature comforts with you.
Tanjong Beach
This is a beach in Sentosa, one of three. It is probably the quietest of the Sentosa beaches, though at night there is an active party scene a couple of times a month. You just have to check when. Like all the Sentosa beaches it is a designed beach and not natural, but it is so well done that you would not realize it.
Siloso beach
The second Sentosa beach is Siloso; this is more a family oriented beach. There are often volleyball and other things happening during the day. This beach probably has the most access to food of the three as well. Siloso is one of the more stress-free beaches to go with a family.
Palawan beach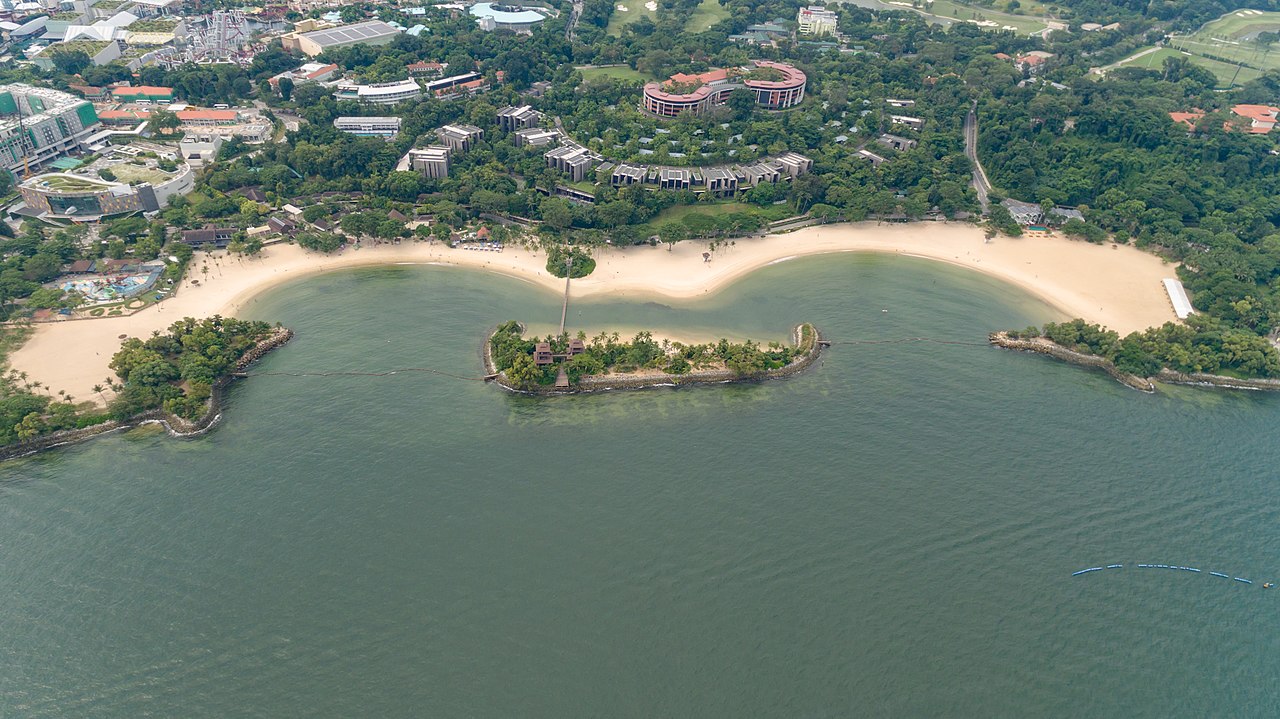 This is probably the most well-known and recognizable beaches in Sentosa. It has its own island that is connected with a swaying bridge. You can swim there of course as well but the bridge is fun. There are a few beach bars here but nothing too much, so for anything major you need to head back to the main area.  You can get around all of Sentosa and its attractions with a shuttle that is frequent.
If it is your first time in Singapore, we would start with Sentosa, as besides the beaches, there is also a tremendous amount of things to do. Granted it's fairly sanitized, but it has been made beautiful by design. A beach you go to in Singapore will be nice, and a stone's throw from the city. (Unless you are out on one of the smaller islands or can throw really, really hard). Singapore is a gem in SE Asia, and very different than any other country there. You can relax on the beach all day and then shop and dine the night away until morning, where you can recover on the beach again. Sounds like heaven.
---